A Bee Does More Than Sting
You might not have given this much thought but it really is something to consider. Have you made your garden an inviting place for bees to come? You may be thinking, "What? I don't want to get stung by a bee nor do I want my kids to be stung. No bees in my garden!" It is time to change your thinking if you feel that way. Bees are a necessity to every garden! Those plants rarely pollinate themselves, you know. When a bee travels from blossom to blossom it will carry the pollen on it's feet and then it transfers to the next plant. That is a good thing! If they happen to be honey bees, then some hive is going to produce some delicious honey!
So, what plants do we have in Indiana that will create a bee garden? There are so many wonderful trees, shrubs, flowers, fruits and vegetables that bees love to come dine on. The trick is to have something in bloom during the entire growing season. You want those bees to keep coming back and to tell their friends to come, too. Providing plants that offer nectar and pollen gives each bee a balanced diet.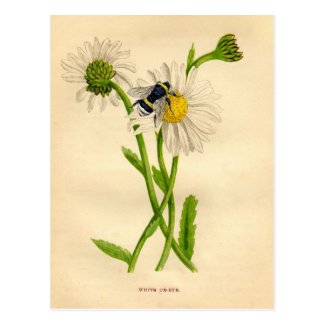 Vintage Bee and Daisy Post Card
by knottysailor at zazzle
Indiana Trees Good For Bees:
Apple trees provide both nectar and pollen and bloom from April to May

Pear trees provide nectar and bloom from April to May
Elm, Maple, Redbud and Oak trees provide pollen and nectar blooming in March and April
Walnut trees provide pollen and bloom in April and May
Tulip Poplar trees provide nectar and pollen blooming in May and June
Indiana Shrubs And Brambles That Every Bee Will Like:
Boxwood shrubs bloom in March and April and give the bees nectar

Blackberry and raspberry plants bloom in May and June providing both nectar and pollen
Butterfly Bush blooms July to September and gives them nectar to eat
Cotoneaster produces nectar and pollen in May and June
Roses produce pollen from June through September
Viburnum has nectar in May and June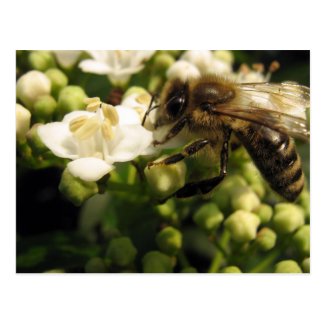 Viburnum Post Card
by florianesser at Zazzle.com
As I sit here writing this, I realize that I haven't even scratched the surface on the plants that grow here in Indiana that can be a part of a bee garden. The longest list comes from the flowers, fruits and crops that also attract bees. So, I think I will make them separate posts so that this does not get too long.
Having any of the trees, shrubs and brambles in the above list as a part of your overall landscaping plan around your home is going to attract those much wanted little bees and have them buzzing around with delight.