If you love the retro look, and you want to create a living room with period furniture straight from the 1950's you will find this post helpful in your search.
I'll show you actual advertisements from the 1950's era for furniture that was selling at the time. You might be surprised at what was actually in fashion and available to the housewife decorating her home.
You will see styles and fabrics that were available for living room furniture that should make you smile and maybe even bring back some light hearted  memories.
What did sofa and chairs really look like?
Kroehler Manufacturing Company offered selections of sofas and chairs in this 1950 magazine ad. A classic straight back with curved arms and deep fringed bases in a green Mohair Jacquard Frieze fabric is the featured photo. You could purchase this set for $179.50.
Also shown in the advertisement is a set of Club style chair and sofa in a red mohair fabric. A Gray Lounge chair that matches the featured set. A really funky fabric for a sectional grouping.
In 1950, at least for this furniture manufacturer, the styles were still pretty traditional. However, the lamps and curtains are beginning to get interesting. Notice that red lamp in the featured photo and those are some bizarre looking drapes!
Here is a neat video discussing Charles and Ray Eames creations of furniture and accessories for the contemporary style that became popular in the 1950's.
A Cool New Chair With 50's Flair
Made with a sturdy solid wood frame this new chair has the style and appeal of a 1950s living room chair. The design has a retro feel along with a touch of that atomic style, don't you think? It would make a great little accent chair in any living room!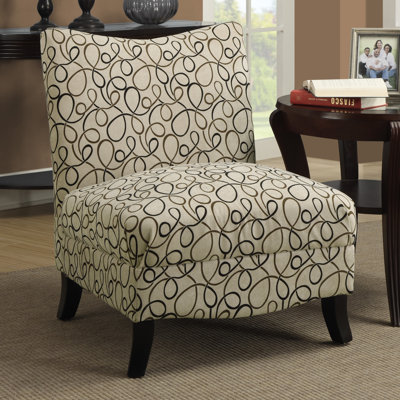 Swirl Fabric Slipper Chair
A green sculptured damask fabric covers the sofa and chair illustrated in this 1951 magazine ad from Kroehler. The furniture featured flowing lines, corded pillow backs, and heavy bullion fringe.
Also seen in this advertisement is a divided sofa with a table in between done in luscious lime green.
Kroehler pronounced (Kray-ler) advertised themselves as the largest funiture manufacturer in the world.
Time In The 1950s
I love this clock! It is so 50s! Sometimes you can find the clocks that were actually made back then but they can get really expensive because they are so highly collectible. Fortunately, you get get a brand new one that looks like the ones of that wonderful decade. The advantage of having a new one is that you know that it is going to operate, they do not have an unsightly cord hanging on the wall and it still gives you the look that you want.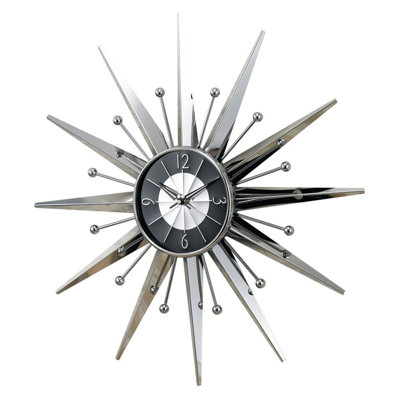 Starburst Wall Clock in Silver and Black
New invention in the 1950s: Kleenex was invented during this decade so a box of tissue was found in the living rooms for guests to use.
Living Room Tables
Lane, makers of the Lane Cedar Chests, advertised their line of tables for the 1952 living room in this magazine ad. Contemporary styles of Cocktail tables, step tables, and picture window tables are promoted.
Choices of wood colors included Blond Oak, Sierra Birch, Chinchilla Walnut and Mahogany. Styles were called Modern, Trestle, and Chippendale.
Smart Sets Became Available
Smartsets are featured by Kroehler in this 1952 magazine ad. The featured half sofas, in a barkcloth fabric in shades of gray and yellow, look very modern in their styling.
Notice the corner table between the half sofas with the lamp and accessories for the living room.
Other styles include more traditional fabrics for 3 piece sectionals, sofa-beds, love seats, and armless half sofas.
When it comes to the items on your walls, you can't go wrong if you choose the popular artist Charley Harper for at least one of the pictures for the wall. His creations are very 1950s and look so great with just about any type of furniture that you want to use in your 1950s style living room. This video gives you nice examples to look for.
[youtube=http://youtu.be/Bek_8SzmrQA]
My husband and I have some 1950s living room pieces that we use in our home and just love them. Notice that we did not stick with the style in everything. It was not uncommon back then to have pieces that were from other eras mixed in with the new and modern items. I do a lot of mixing and matching of eras in my decorating.
I just love my atomic style lamp and ashtray! The blond credenza is very 1950s and holds some of our favorite tapes that we like to listen to. The Roseville bookends are from another era but still in a modern design.
My suggestion is to go with the things that you really like and create the space as you go. Find some vintage pieces to go along with some new pieces of the same or similar style and I am sure you will love the end result. Just remember that you will be living with this furniture and the accessories so the pieces should be comfortable to sit in and something that you will not tire of quickly. There is nothing worse than creating a room and then a few months later saying, "What the heck was I thinking?".
For some help in finding things that are true to the 1950s style I suggest you get a good book that shows the different items available back then. Something like this one:

The 1950s American Home (Shire USA)