You can pick a unique baby room decor for your baby's nursery. A Western nursery theme is fun, different, and easily achieved. There are several options for western baby bedding for any little cowboy or cowgirl.
There are different crib sets with western bedding choices along with decorative pieces to add to make your baby room decor fit your inner cowboy. Lamps, changing tables, and other western accessories are easily found to create a look that fits a home decorated in the Western theme or just for something different and a little out of the ordinary.
I have selected a few items to showcase to help you create your own western nursery.
Western Theme For Girls
A nice bargain with the set including thirteen pieces instead of the standard four. Nice little western and pink items for the baby girl's nursery. Set includes a comforter, a fitted sheet, crib bumper, crib skirt, two valances, toy bag, diaper stacker, two pillows, and three wall art decor items.

Boutique Horse Western Cowgirl 13PCS CRIB BEDDING SET
A Versatile Way To Decorate
What I like about the western nursery choice is that you can choose items that fit both genders of baby.
Yes, there are pink accessories perfect for that future little cowgirl. And you will find a nice selection of items for that little guy to dream of roping and riding when he is all grown up. You do not have to restrict yourself to normal baby items as you plan for the future of the room.
Idea For A Boy
The version of the western theme shown above for little cowgirls only for the little cowboy. A fun nursery idea that can grow with it's western theme as your little guy leaves the baby stage. Boutique Horse Western Cowboy 13PCS CRIB BEDDING SET
Accessories Make The Room
With any theme for a room, the accessories you choose will enhance the room. With a Western baby nursery as your guide you can pick items that are meant for a nursery or you can pick other items that go with the theme. You do not have to go with the baby lamp, but can choose a lamp like the one at right that will grow with baby.
Fabrics can be chosen from your local fabric shop to make curtains or you can choose a pair that matches your western nursery bedding.
There are really no wrong choices as you decorate your nursery to make it uniquely you for your baby.

Cowboy Boots Vanity Lamp w/Western Shade
A Few Options For Your Baby Room
There are more than a few ways to decorate a nursery in a western theme for your little buckaroo no matter the gender. Below you will see two more ideas for your nursery decorating needs.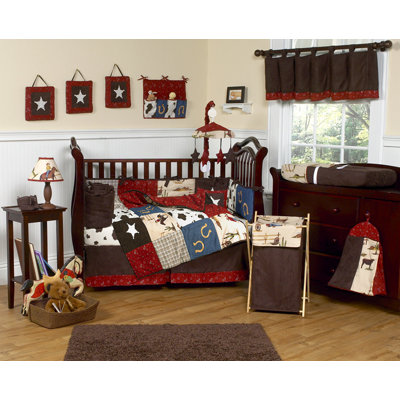 Wild West Cowboy Nursery Bedding Set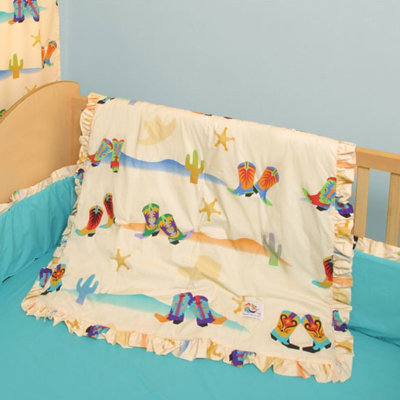 Cowboy Crib Bedding
This calendar for 2014 would be fun hanging on the nursery room wall. I would suggest near the crib or the changing table so that Mom, Dad, or Nanny can keep track of important appointments for baby. You know, doctor appointments, play dates, or any important date involving baby. Adorable little cowboys and cowgirls in training are sure to put a smile on your face!

Lil' Buckaroos 2014 Wall Calendar
So, have some fun decorating your nursery with a western baby theme! There are just all sorts of ways to go with it.
The following two tabs change content below.
Beverly Owens
Bev has been decorating rooms and homes since she was a little kid, starting with her own bedroom. She loves to share ideas for decorating different rooms in the home along with some outstanding products that she finds from time to time. Join her on
Google+
Latest posts by Beverly Owens (see all)