Rich And Vibrant Red In Your Bathroom Decor
Using the color red in the tone of burgundy in a bathroom is so bold and bright that you can't help but feel empowered just walking into one. Burgundy gives the feeling of energy and also passion. You can use a little of this wine colored red or a lot of it. It works so well with other colors that you can use it as the main color or as an accent color.
If this wine red known as burgundy is to be the main color in your powder room or master bath you will want to choose a coordinating set of shower curtain, bath mats and large items that show your passion for this bold color. If you are wanting it to be an accent color then having accessories for the sink or vanity will do the job, nicely. I have compiled a list of the most interesting choices on the market today for you to start your new decorating scheme using dark red or burgundy in the bath.

Burgundy Feather 18-piece Bathroom Set
Not all reds are the same…
pay attention to the hue of your red. Some have a blue tone while others have a yellow tone. They look best when staying in the same family (blue or yellow). They don't mix well, however.
What colors go with burgundy red?
As I mentioned above, not all reds blend well together so make sure the red items that you choose are either all in a blue tone or a yellow tone.
Colors to use with red:
white
black
blue
browns
yellow
beige
gray
Do you want the bathroom to have a unisex look, a masculine look or do you want to go with a feminine touch? The answer to that question is going to determine what kinds of pieces that you will use. Well, we have the basics like shower curtain, rugs, and towel sets plus any pieces that may decorate and function on the sink vanity but the "look" you want to achieve is going to determine what style of items you will chose.
For instance, something very feminine might look like this:

Lucia Polyester Shower Curtain Color: Red
Now just imagine the fun things that you can get that will go with a feminine shower curtain like that! I would be tempted to use a few shades of pink for the sink vanity accessories with this one. Burgundy in this shade of red will look awesome with pinks.
Perhaps you want something a little more masculine to keep your spouse or partner happy. He may not want a frilly look in his bath. So, something like this might work better for you: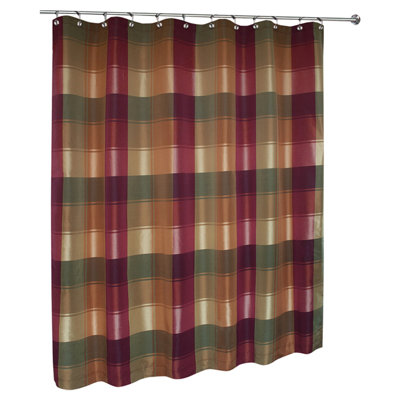 Plaid Polyester Shower Curtain Color: Burgundy
This is such a fun style for a bath that wants a manly feel to it! Imagine the colors you can work with this one! Greens, browns and golds will go nicely. Heck, I would even consider some bronze colored items to go with it.
My recommendation is choose the style you want first and then start shopping for the accessories in the dark shade of red called burgundy. Keep the colors in the blue hues or yellow hues and have fun with it.
The following two tabs change content below.
Beverly Owens
Bev has been decorating rooms and homes since she was a little kid, starting with her own bedroom. She loves to share ideas for decorating different rooms in the home along with some outstanding products that she finds from time to time. Join her on
Google+
Latest posts by Beverly Owens (see all)