If you have been following this blog, you know that a while back I started talking about Bees In The Garden and introduced you to some trees and shrubs that attract bees which are probably the most welcome of all wildlife visitors to our gardens. I promised to continue with other plants that you can have in your garden that promote the coming of the bees. I will concentrate on the Indiana flowers that bees love since that is what I am most familiar with. Remember the bees help pollinate your pretty flowers, fruit plants and vegetable plants so we want them to buzz around the garden with wanton abandon.
Today we will talk about the Indiana flowers that bees love to land on to get both nectar and pollen. They do need both for a balanced diet, if you remember and not all plants give both. Placing these plants in a sunny spot will work the best because the bees like the warmth of the sun. They do not care much for windy areas so keep that in mind, too. Oh, and another thing to keep in mind. Hybrid plants might be pretty with those blooms that are to die for but bees get no nourishment from them at all. Hybrids are bred to produce awesome blooms and in the process they loose the nectar and pollen that they would have naturally produced if they had been left alone. Now, don't get me wrong I am not against those lovely plants, they just are not great for getting bees to your garden.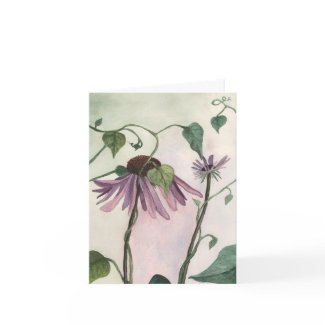 Purple Coneflower Notecard
by knotaway at Zazzle
Indiana Flowers To Plant For Bees:
Asters are great looking in a flower garden and produce nectar and pollen for bees from September to frost. They are also native to our area.

Black-eyed Susans bloom in June and July and provide nectar for the bees
Brown-eyed Susans bloom later in July and August giving more nectar
Candytuft shares their blooms in May and provide nectar
Cosmos provide pollen in August and September
Creeping Phlox looks so lovely in a rock garden during May and June and gives the bees some sweet nectar
Grape Hyacinth gives nectar while Hyacinth produces nectar and pollen, both bloom in April
Lavender produces nectar from June through September
Purple Coneflowers are native to Indiana and produce nectar in July and August
Salvia blooms in May and June giving the bees some nectar
Sunflowers bloom from June through September and the bees get both nectar and pollen from them
Zinnia plants give us color from August through October and the bees get nectar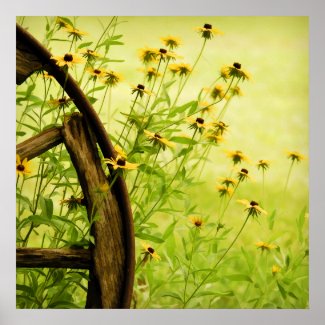 Black-Eyed Susan and Wagon Wheel Photo Print
by NancyTrippPhotoGifts at zazzle.com
There are other flowers that will grow here in Indiana that also attract those precious bees but I did not include them on the list because they are difficult to find, at least in my local area. That is one of my pet peeves when it comes to shopping for plants or seeds. I'll see this gorgeous plant in a magazine and I want it but find that it is not available. Well, then don't temp me with it! I'm saving you the frustration by not even going there.
Another thing to remember is that bees can actually see color. The colors that they seem most attracted to are bright white, yellow and blue. That doesn't mean they won't go to a pink or red flower, they just like the other colors better.
In a later post we will talk about garden fruits and vegetables that bees love.
The following two tabs change content below.
Beverly Owens
Bev has been decorating rooms and homes since she was a little kid, starting with her own bedroom. She loves to share ideas for decorating different rooms in the home along with some outstanding products that she finds from time to time.
Latest posts by Beverly Owens (see all)