It is time to continue with my short little series of attracting bees to our gardens whether we grow flowers, edible crops or both.  Today we will cover the edible variety of plants. Maybe you hadn't thought about fruits and vegetable attracting bees. Many of them do get a little blossom on them that eventually becomes the food we are growing. The flowers can have nectar, pollen or both and some even need to be pollinated by the bee in order to produce.
Sun loving plants do the best to attract bees. Areas that get close to 5 to 6 hours are the best. That doesn't mean that you will never see a bee visit a plant that is in the shade.  They are just more likely to go for those in the sun.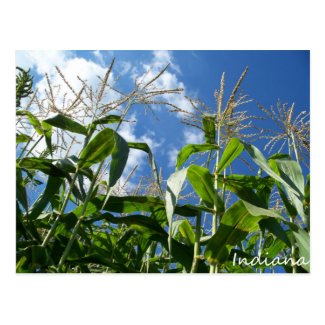 Indiana Corn Postcard
by Mamajo3304 at zazzle.com
Agricultural plants for bees in the garden:
 Strawberries bloom in May and June giving each bee both pollen and nectar
Sweet Corn blooms in June and July providing pollen for the bees
Cucumbers (that can be made into pickles) bloom from June through August giving nectar and pollen for a bee to feed on
Pumpkins produce blooms from July to the first frost and have both nectar and pollen
Melons bloom from June to the first frost and also have nectar and pollen for bees
Watermelons give a bee nectar and pollen during June and July
Herbs are really great to have and each type provides nectar during the season
We do not cultivate these plants but dandelions and clovers are especially loved by bees. They do not seem to care that us humans consider these plants both invasive and a weed. They like the nectar and pollen that are produced by them.
Pesticides and Insecticides Are Harmful To Bees
When it comes to planting plants in our gardens and taking care of our lawns, we often are encouraged to use pesticides to keep down the growth of weeds and to get rid of unwanted insects. It really is not a good idea. So many cancer causing agents have been linked to the ingredients used in pesticides and insecticides that we should not do it for our own health.  When it comes to bees they are really bad. The product may kill the bees and often times kills plants that they feed on. Look for natural products that can do the job without those nasty ingredients that are on the shelves today.
Our gardens in Indiana can produce luscious foods for us to eat and lovely flowers for us to enjoy while at the same time encouraging bees to survive and thrive in our areas. It is really important to keep a balance in the overall eco systems that are present in our living spaces and bees are an important part of that.
One last thought before I conclude my little series on bees in the garden. Not all bees produce honey but those that do provide a great food source for us to enjoy. Honey is a very healthy choice to have in our diets. Purchasing honey that has been produced locally is the best choice when choosing honey at a grocery store, the farmers market or wherever you make your honey purchases. I have to tell you that the best honey that I have ever tasted (and I buy exclusively now) is made just 5 miles from where I live. Try some local honey, you will not be disappointed!
The following two tabs change content below.
Beverly Owens
Bev has been decorating rooms and homes since she was a little kid, starting with her own bedroom. She loves to share ideas for decorating different rooms in the home along with some outstanding products that she finds from time to time.
Latest posts by Beverly Owens (see all)