Our laundry rooms do not have to be boring. Decorating this room in your home can be fun and add a little whimsy to the one room that we would prefer not to have to spend a lot of time in. It would be nice if there were truly little "brownies" who came in the middle of the night and did our laundry for us, but alas that only happens in fairy tales.
So, since doing the laundry is something that we have to do on a regular basis… Why not decorate the room so that we can at least enjoy being there while we sort and fold the clothing we have just washed and dried?
A cute whimsical sign in the laundry room can add a little humor about what most of us describe as our least favorite task. It isn't that I mind doing the laundry, it just never seems to ever be done.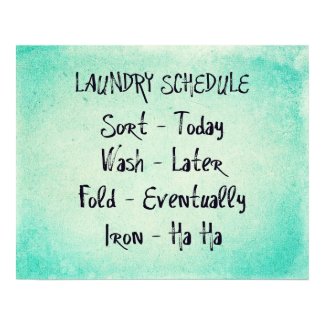 Laundry Schedule Print
by
cesstrelle
Find more Quote Posters at
Zazzle
Adding a laundry themed pair of curtains is another way to decorate the laundry room. I had a link to the pair that I purchased on Amazon but unfortunately they sold out. I will keep an eye out for new ones and add the link for you when they are available.
Having something with a "wash day" look to the fabric is ideal. If you are handy with a sewing machine you could purchase fabric that has laundry items on it and make a pair of curtains.
A really simple way to add some decoration to your laundry room is to change the switch plates in the room. You can find ones that have a vintage flair, antique style, or a contemporary look. I am showing a selection of single switch plates but most also come in a double switch if you need them.
What a cute idea for the laundry room…a wall clock that looks like a basket of laundry! We need a clock in there to make sure we don't spend too much time, you know.

Laundry Basket Clock by Miles Kimball
Painting the walls of the laundry room in your favorite bright and cheery color and then adding a sign or two can be enough. Or simply add some whimsical switch plates to add some interest. That pair of curtains might be the only thing you need to decorate or the wall clock. After all, you don't need to make it so darn cute that you never want to leave, just add a few decorations to at least enjoy yourself while you are in there. Right?
Behind every working woman is an enormous pile of unwashed laundry
~Barbara Dale~
Thank you for stopping by and reading my decorating a laundry room ideas. I hope you found some clever ideas for your room while you were here. Please do let me know that you stopped by with a comment. When I get done with the ironing, I'll be sure to take a look.
The following two tabs change content below.
Beverly Owens
Bev has been decorating rooms and homes since she was a little kid, starting with her own bedroom. She loves to share ideas for decorating different rooms in the home along with some outstanding products that she finds from time to time.
Latest posts by Beverly Owens (see all)