Star Wars: Rogue One Female Costume For Jyn Erso
A perfect costume for the ladies who are fans of Star Wars! Dress as the ultimate rebel, Jyn Erso either for Halloween, your next ComicCon or any CosPlay event that you plan to attend. Ladies, get in touch with your inner roguish self while wearing this fun costume. Prepare to give the Empire a run for their money!
I'm sure you know the story of this character so, hone in on all of those skills that Jyn has on her Imperial rap sheet. You know…she is good at forgery, doesn't mind assaulting her enemies and has been known to possess stolen goods from time to time. You will find that you can be the most wanted candidate in the room to try and steal those plans for the Death Star.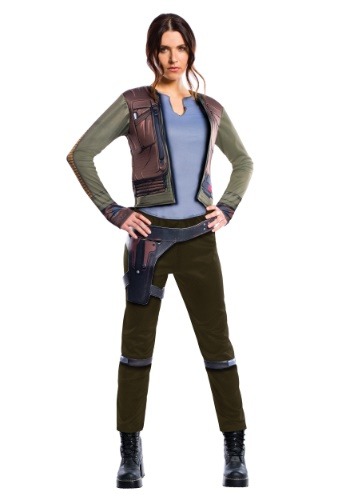 Star Wars: Rogue One Adult Women's Deluxe Jyn Erso Costume
Deluxe Costume Includes:
Jacket with attached shirt front (has velcro closure in back)
pants (elastized waist for comfort)
belt (fastens at the waist and thigh)
This Jyn Erso costume has all of the basics for you to dress as your newest favorite Star Wars character. You can add your own boots and gloves, if you like.
One feature that you should be aware of is that the holster is a painted on design. I think that makes for a more comfortable wearing adventure but it will detract if you want a more authentic look for your costume. It is still a good start for your character costume and you can always add a real holster and Jyn Erso gun when they become available in the future. I haven't found any yet but as of the writing of this post, the movie is a fairly new release and new merchandise is coming out every day.