Have you considered using owl baby bedding as the theme for your nursery decor? There are so many cute ideas and products that can be put together to make a unique baby nursery for you little one.
When I see these owl themed items it makes me think of wonderful children's stories that have owls in them. Winnie the Pooh often consults Owl in his stories. There is the Owl and the Pussycat and Good Night Owl. We grew up with stories that usually have a wise old owl in them.
So, wouldn't it be fun to decorate the baby nursery with an owl theme? I have found some fun products that can get you started.
Remember the ad campaign from the 1970s with Woodsy Owl telling us to give a Hoot and Don't Pollute? Maybe he was an inspiration for the owl bedding we have now for decorating a nursery. He is a cute little guy.
As I mentioned above, there have been many owls in literature for children. I wonder if any of them inspired the designers to create owl baby bedding and decor items. Do you remember these owls?
Bess an owl from the Guardians of Ga'Hoole
Hedwig the snowy owl from Harry Potter books
Master Glimfeather from the Chronicles of Narnia
Owl from the Winnie The Pooh books
These are only a few of the owls that I can think of. I bet you have a favorite owl from your childhood.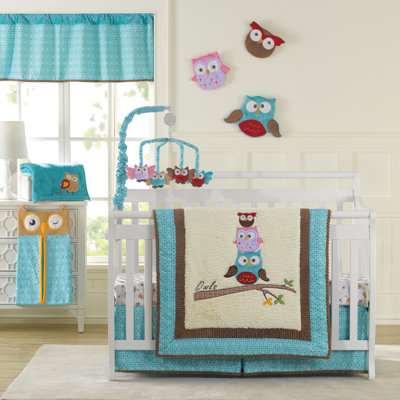 Spotty Owls Crib Bedding Collection
What I love about the set above is that it will work for either gender child. The soft ivory color is a faux fur that will actually help when baby starts to develop some of those motor skills by feeling the difference in the fabric. The set includes 10 pieces so it is quite a bargain. Not only is there a comforter but a blanket, also . Wall art is included plus 2 crib sheets, dust ruffle, diaper stacker, and a window valance. That is really quite a lot for the money.

Turquoise and Lime Hooty Owl Unisex Baby Boy or Girl Bedding 9 pc Crib Set by Sweet Jojo Designs
This turquoise and lime green set is also great for either a boy or a girl. Sweet JoJo Designs has been coming up with creative and unique designs for baby nurseries for quite a while now. There are also pieces that you can add to enhance the theme of the crib bedding that are not included in the crib set.
Once you have chosen the owl baby bedding, you can begin to find accessories to complete baby nursery theme. Most of the crib sets have coordinating pieces that can be purchased separately from the bedding. You do not have to limit yourself to those, though. Look for other items that will work well with the color scheme and theme. Items to consider are:
owl rug
toy chest
stuffed animals
wall decor
If you are clever with a sewing machine or you know someone who is, consider getting some cute owl fabric and making your own bedding. You can find coordinating fabrics to make the curtains, valances, and even pillows to complete your decorating theme.
I've only shown just a couple of examples but with a little searching, I'm sure you will find other owl themed nursery bedding sets if the two that I've shown are not exactly what you were looking for.
Thanks for stopping by today to see my ideas for owl baby bedding to go in a fun nursery theme. Let me know you were here by leaving a comment or just say "Hoooot".
Image Credit: The owl trio used as the featured image of this post is courtesy of: Pixabay