Paisley nursery bedding sets are very popular with young Mothers to decorate the special room where baby will grow. I don't know if it is the kind of retro and vintage look to it or if it is because it is unique and different from the babyish designs that are available. Personally, I absolutely love all of the paisley crib sets that I have seen! They look so sweet and stylish and because of the design they are something that will grow with a little girl as her room changes to a toddler's room and then a big girl's room making it an economical choice, too. There are some color schemes that will work for a little boy, also.

My Baby Sam Paisley Splash 4 Piece Crib Bedding Set, Pink
Hoohobbers Paisley Crib Bedding
Pretty shades of pinks with a little bit of green make a lovely nursery bedding for girls. The set includes a crib blanket, a crib skirt that has an 18 inch drop, a sheet and bumper pads for the crib. There are also many coordinates that you can purchase separately. I just love the entire look of this cute set, don't you? So sweet and perfect for a baby girl!

Hoohobbers-Paisley 4 Piece Crib Bedding Set
Another My Baby Sam Set In Paisley
We have more than one option for paisley bedding in a nursery from the My Baby Sam line of crib bedding. I like this little Pixie set it includes a crib blanket, crib sheet, crib skirt and bumper pads for the crib. Additional coordinating pieces are shown below. This set is shown in pink and also comes in aqua.


My Baby Sam Pixie Set
Paisley Is A Very Old Design
Paisley and the use of it in designs go back quite a few years. The design may come from old Persia or possibly India and uses the botah which is a droplet shaped vegetable motif. Sometimes it is described as a twisted teardrop while others might say that it looks to have an almost kidney shape. The actual name used in Western cultures is derived from a town in Scotland that was a major center for producing textiles.
During the 18th and 19th centuries this motif became quite popular in Europe from the imports that were beginning to arrive from British India. The shawls from the Kashmir district were very popular and began to be imitated in other types of textiles. Americans sometimes call it the Persian Pickle or the Welsh Pear.
The boteh jegheh, which is what this design was called in old Persia, can be traced back to being used during the Sassanid Dynasty which occurred around 224 to 651 AD. That is a long, long history I would say. I think it is kind of cool that it is making a come back in popularity.
Paisley Splash Design
Another selection from My Baby Sam that will work nicely for a girl or a boy baby room. I love the earthy browns and greens in the pattern. This cute set includes three pieces: blanket for the crib, fitted sheet and bumper pads. There are several cute accessories pieces that can be purchased separately, also. Things like lamps, hampers, diaper stackers and other items.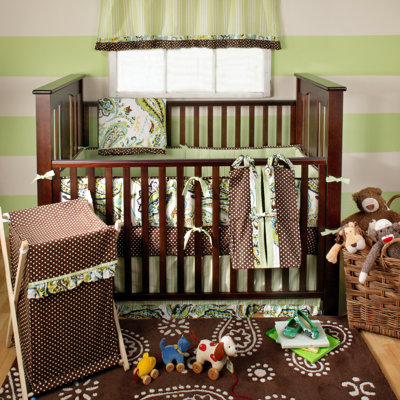 My Baby Sam-Paisley Splash In Lime 4 Piece Crib Bedding Set
An Idea for the Wall
If you have chosen a fabric that has paisley designs, paint the walls in stripes of colors from the paisley print. You can put striped wallpaper if you want. The stripes look really cool if they are horizontal instead of vertical. Dots work well, too. Of course you can also just paint the walls a solid color choosing a shade from the print in the fabric of the bedding.
As I stated earlier the paisley pattern in textiles has been around for centuries and personally I think that it makes for a fun and unique style in any baby's room.