Earthy Brown Decor
A Brown Bathroom decorating theme is perfect for a more neutral or masculine theme. Bachelors or Teen boys would much prefer this color scheme over any other color as it seems to just say 'male'.
There are some great design choices available for using brown in bathrooms and they don't have to be completely masculine in style either. You can create a space that is just as pretty as a blue or yellow one, but with the neutral earth tones that you love. Scroll down to find the perfect items to suit your style.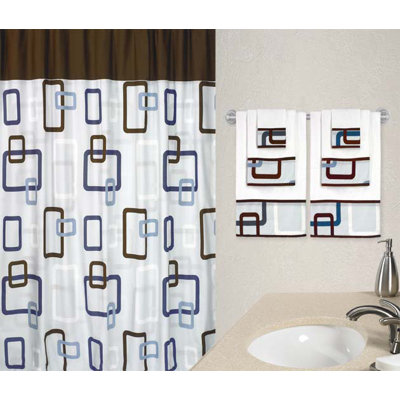 Geo Shower Curtain
Using a geometric pattern in the shower curtain and towels like the one shown above is one fun way to use brown in the bathroom. It has a nice contemporary feel to it along with fitting a retro style of home. I like the use of the different shades of blue which also would appeal to the males of the house. The fun thing about this design for the shower curtain is that there are also options for wall decals and even wallpaper borders.

Watershed Prints Stall Polyester Classic Polka Dot Stall Shower Curtain
Add a little more femininity to the bathroom and still use brown by choosing polka dots like the shower curtain above. It isn't too frilly for the guys of the house and still has a touch of female with the pretty pink dots. Combine a combination of pink and brown accessories like towels and vanity items and the entire room pulls together nicely.
A Little Psychology Behind Using Brown In The Bath
You can not get more down to earth than the color brown so it is associated with stability. It gives the feeling of providing protection to the family and a sense of belonging to a unit. It is also a practical color to use because it can blend so nicely with so many other members of the color wheel.
People get the sense of having both feet firmly planted on the ground when using this color. Subconsciously we think of reliability and the security of the materials we have due to hard work. It provides us with a calmness that many other colors do not.
Because it is the color of the earth we often think of the great outdoors and nature in general when surrounded by brown or at least touches of it.
So many colors work well with brown so use your favorites combined with this earthy tone to make that bathroom look great and match your own personality.